Welcome to Realtime-Spy's Installation Guide. With this guide you should have Realtime-Spy up and running minutes!
Jump to Step: 1 - 2 - 3 - 4 - 5 - 6 - 7 - 8
---
Step 1
After downloading your copy of Realtime-Spy navigate to where you downloaded it(in this case it is on the Mac desktop). Double click the Realtime-Spy installer file to start the install.
NOTE: After install is complete you can delete this file!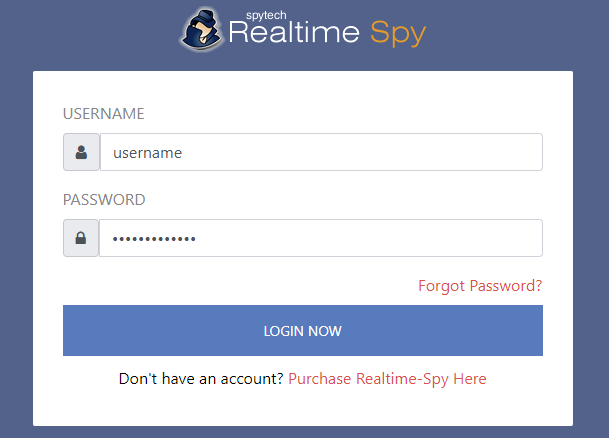 Step 2
Upon finishing the installation you will be able to run Realtime-Spy's configuration file immediately. Do this and continue to the next step.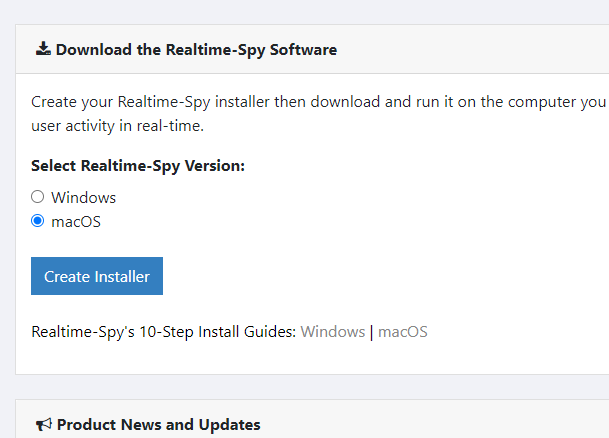 Step 3
You will now see the Realtime-Spy configuration window. Enter in your username and password that you received after purchasing Realtime-Spy. These must be entered EXACTLY as given. They are case sensitive, and take care not to mix up 0's with O's and I's with l's.
After you enter your username and password, choose whether or not you want Realtime-Spy to display a splash warning whenever it is ran, and what logging options you want to enable.
After you enter your username/password and select the options you want - press "create" to create your logging module.
Note: If the configuration screen does not appear after the install completes please open your Applications folder, then open the Realtime-Spy folder and run the RTConfig application file in the Realtime-Spy folder to proceed with this step. If you get any permission issues when trying to open the Realtime-Spy folder please open the Applications folder in Finder, right click on the Realtime-Spy folder and then "Get Info" and set the permissions to 'Everyone' for all groups listed in the Sharing & Permissions section of the Info screen. Then open the Realtime-Spy folder to proceed.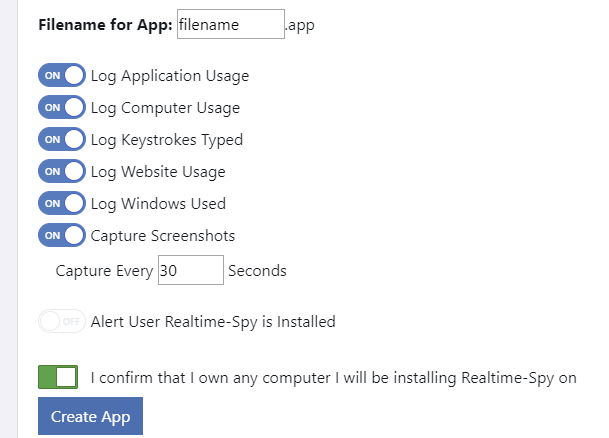 Step 4
Click "create" to create your logging module. You will be prompted for a name to give the file you are creating. In this example we have named it 'yourmodule' - you can name it whatever you want. Click Save and you will receive a message similar to the one below.
Remember the location of the file you have just created!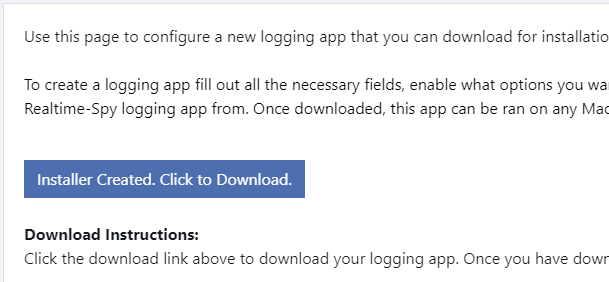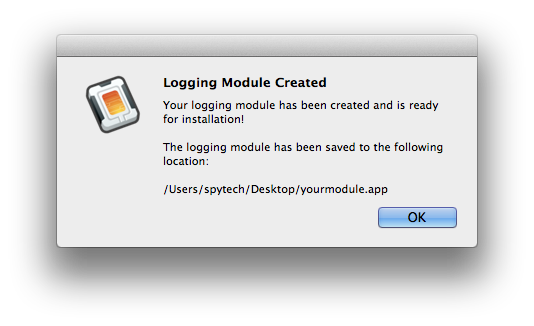 Step 5
Now it is time to send out the logging app to your remote Mac. Right click on the module app file you created above and then click on 'New Email with Attachment'.
Note: If you wish to physically install the Realtime-Spy logging module you created above simply copy it to the Mac you want to monitor and run it on the computer, and proceed to Step 7 below.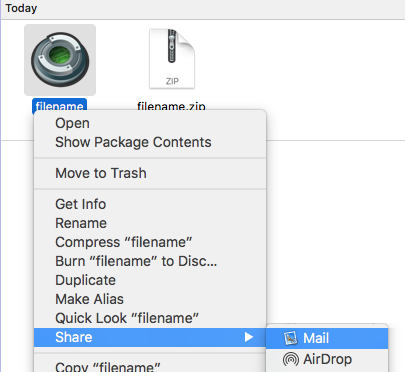 Step 6
A new email with the module app file (yourmodule in this example) attached will appear. You will now have to enter a recipient for the file you are sending, as well as an email subject and body. Notice the size of the Realtime-Spy file - it should be approximately 225-250KB.
Once you are ready, send the email!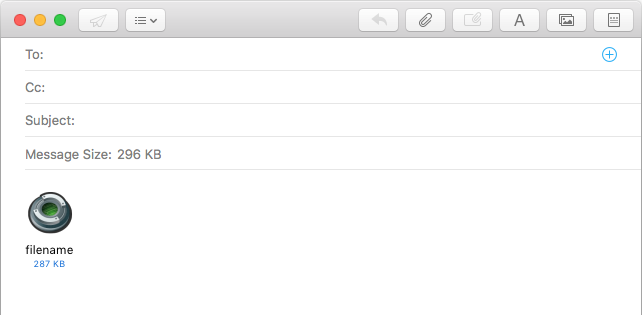 Step 7
Once the Realtime-Spy module is installed on your computer you can then login to your Realtime-Spy webspace. This is located at www.realtime-spy-mac.com/members/
Enter in your username/password at the prompt to continue!
Note: If you wish, you can delete the Realtime-Spy folder found in your Applications folder after you have created the logging module application you will be installing. The Realtime-Spy folder only contains the configuration software for creating the logging module app and can be removed without interfering with monitoring. The created logging module app can be deleted after installation as well.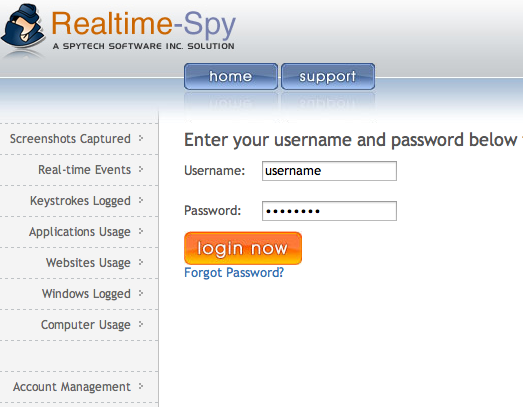 Step 8
You will be presented with your Realtime-Spy webspace. Here you can select and view computers that are logged with the module app file you sent/installed.
Note: Computers will only appear after the logging module is ran on the Macs you are wanting to monitor.
If you have any questions check out the Realtime-Spy page at www.realtime-spy-mac.com